I'm in London right now. Innit?
I went for an interview yesterday and i have been accepted. Yeeeeehaw! But until I have fine tuned the agreements, I can't divulge what it is alrhough, suffice to say, it's a wonderful opportunity. I then got invited to a craft event in Islington (which I can blog about on Sunday). It was such a great night but the best suprise of all is bumping in Shimelle and meeting Vicky Sheridan. As there were only a handful of invited guests, I had no idea these girls would be here. It made me feel at home!
Today I spent my time in crystal palace and at Rubinas beauty parlour. I'm working on Rubes's website and as part of the transaction I was rewarded with a full body and head massage plus a facial. Well, it was like all my holidays rolled into one. I can honestly say, hand on heart, that it was one of the most relaxing experiences of my life. It's made me super sleepy, all day.
Im now back at my accommodation, which I have to admit was one of the best bookings of "lets" ever. I'm staying in Streatham with a great couple who have treated me very well. I couldn't ask for a more perfect place to stay. Look up "Airbandb" on google to read just what I mean. Thoroughly recommended for the most adventurous travelor.
Aaaaaaaaanyway, I'll leave you with this bit of eye candy.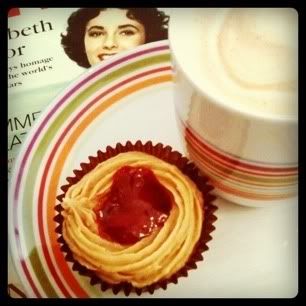 Peanut butter and jam cuppy cakes - hello?