Who is she/he? Anyone got their number?
I'm
afraid if Belles
doesn't
get anyone to go to the prom with then
I'm
going to have to call them. His agent or the cute little
blonde's agent
from One Direction (no idea what his name is but she is currently holding a bit of a torch for him too!!)
Heeeeeee
! Poor kid, she has
nobody
to sit with (girl or boy) as all her
friend's
have already organised their seating plans/travel arrangements etc yadder yadder. I was just going to sit here and bawl my eyes out FOREVER over the matter but Belles has decided that she will just
hang out and enjoy being fabulous.
That kid has no qualms over the debacle; I
don't
know where she gets her strength from because I'd be mopping up my tears, with my prom dress underskirt, if I were her. Talking of which, her ultra fluffy petticoat arrived today and I have to say, its pretty fantastic for the price. If anyone is looking for fluffy-under-prom-under-skirts, then get in touch.
Tonight was a great night on the telly for the
Wiseman
household. The Voice and
Britain's
Got Talent. At times I found The Voice a little contrived and cheesy but we all gave it a thumbs up in the end. And
Britain's
Got Talent? Oh we just LOVE LOVE LOVE this show. Its got everything including belly laughs and tears. Loved Johnathon and
Charlotte
(Click this link
here
)
in fact
I was so happy for them I wept buckets and wiped my snot down the dogs back. Love little gems like this. Another Susan Boyl/Paul Potts moment.
Finally, here is a little something I whipped up using leftovers and fiddly bits as I was tidying my craft room. I guess its kind of
christmassy
with red, green and white but what the hell....... it's a card to sit amongst my
standy
-by collection, for that special someone, in a hurry.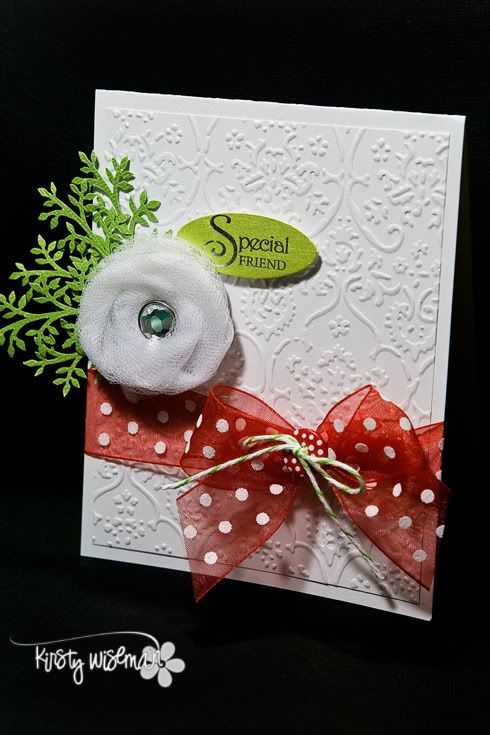 I'm
off to Leeds tomorrow to meet a sweet
friend
of mine for coffee and my fave uncle in the world for a bite to eat. What with the clocks going forward, I best get my ample backside to
Bedfordshire
xx
Love
Kirsty x
Click here to subscribe to my newsletter