He
heeeeeeeeeeee
, more on that later..........
First I wanted to show you this baby. Using my new and fab
Tim

Holtz

new paper bag die
that I got today. I used
kraft
postal wrap to make the bag but feel it could benefit from a stronger
gsm
. Still - its pretty '
mezzin
. I am so joyously in love with this die.

Like, I even want to marry it; it's that gorge.
Simply entitled "A bit of advice", this bag contains a mini tag book containing quotes I feel every woman should carry around with her.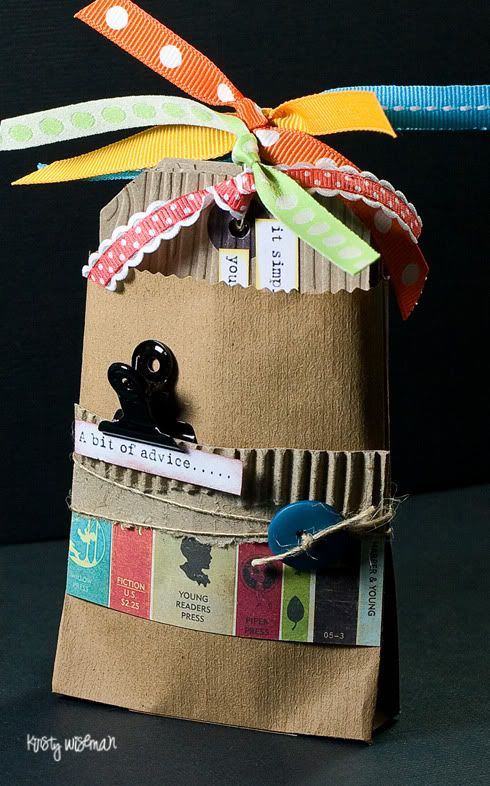 Here is the book, out of the bag
I embossed every tag and half inked them with Distress Ink pads. I then put a strip of corrugated card down the centre of each tag
I found 5 of my
favest
quotes and printed them out in an old typewriter font, then inked each strip in co-ordinating coloured inks (as per each page)
I used paper pieces from Crate Paper to decorate the centre of each Kraft star
And I just marvel at such a beauteous object
So, this knitting and kind of not knitting?
God knows I have tried to knit on several occasions but
its just not my bag
. This afternoon I nipped into my local haberdashery in Ashton for some silver buckles and noticed this yarn on the shelf. I fell in love with it. I got talking to the shop owner and she told me how EASY it was to make it up into a scarf. Unconvinced, she grabbed two needles and showed me. You don't even cast on, you just weave your needles through 7 alternate loops. Then you knit the 7 stitches (just knit, not a purl in sight!) until the ball has 12 inches left spare. Then you cast off. SHE WAS AMAZING spending the time with me. Well, that was it - 2 balls purchased (to make two scarves), some knitting needles and I came home thinking "Oh man, not another craft I have ZERO time for".
I made a start during the One show. Only this little fella wanted my attention all bloody evening so I allowed him to lie on my lap whilst I fudged my way through the start of the scarf. I admit, I am not a natural knitter.
I'm
slow and careful; well,
I thought I was
. I kept dropping the stitches and missing loops.......I mean 7 lousy stitches and I'd end up with 8 then 6 and man, it got ugly! I had to unravel it a few times before I got the hang of it.
This is my scarf for now, a third done. And although
I'm
not technically knitting a "fair isle
aran
in chunky knit with purls and knits" (and
christ
knows what). I've managed to produce something that looks decent without dropped stitches or
mishapen
rows from a varying tension.
Are you proud of me?
No?
Oh. OK.
Tee
heeeeee
Don't forget to visit the post below to "Like" the Tonic
facebook
page to be in with a chance of winning mega prizes.
Love

Kirsty
x
Click here to subscribe to my newsletter