Today, woke exceptionally early because today was "get a free latte" day from Starbucks. The fact I had to drive 4 miles, pay a parking charge of £4.50 to get one is besides the point - I was grabbing my opportunity to bleed them dry. I'm really a Costa Coffee girl but a free coffee tastes oh-so-magnificent, even if the beans could have been ground with human bones and dog poo.
Before I set off, I gathered my shopping essentials. Namely reading glasses, a brolly, lippy, purse, pen, paper and my sunnies. Only they decided to break. But I wasn't going to let that hamper my day.
I made a beeline for Starbucks where people were backed right out of the door. This is typical but hell, why not - its free coffee! I had only been stood in the line for 30 seconds when I recognised the guy come and stand behind me. It was only Luke
Marsden
from Big Brother 8. He is an absolute scream and so I asked if I could have my picture taken with him. Sadly neither of us were particularly endorsing Starbucks nor being paid for it. Remember - I'm a
costa
coffee girl. NB: I was wearing my rather fetching "quilt cover" style jacket for ease of wear and not a fashion accessory.
After 45 minutes of queuing and enjoying conversation with random queue-
ees
(seriously, I love talking to anyone and everyone.....it was pure entertainment), I was served my free half shot skinny latte with sweet and low.
And it was fan-
friggin
-
tastic
.
Afterwards, I ran some errands around town before being lured by the mystique of
TK
Maxx
. Normally I cannot stand rifling through rails and racks of oddments (all in XS, Size 6 or
browny
fawny
coloured clothes that nobody else wants). But today I noticed there was a sale on and the prom dresses were on that rail. Now, we know Ellie isn't your average 16 year old who is going to be wanting to spill out of a satin-y/sequin-y top with splits up to her knickers, fake tanned with false eyelashes and all sorts of "gypsy wedding style" paraphernalia. Ellie's simple request was "Bella from Twilight". So I had to look for "soft shades and simple".
Good old fashioned simple and understated.
And in one shopping session (out of a predicted 385483534643)
I found
the
dress
. And its just heavenly (although needs taking in a few inches). Best thing was that it was reduced from £100 to £30. But I'll savour those pictures for tomorrow as we have done nothing but plan accessories since I got home with the dress she practically salivated over when she saw it.
Im
so glad she trusts me!
I have started to make one of the accessories and that's some hand warmers.
Ellies
unusual, slightly soft "
emo
" look needs hand warmers and this blog
HERE
gave me a great idea. I cut up a beautiful, soft pair of
Pringle
socks in grey and followed the instructions of the blog I just mentioned before. I have lashings of lace (the colours in the lace and socks match her dress perfectly) and lots of ornate buttons so I set to work whilst watching a re-run of The 2 hairy Bikers "Bake-action" programme (loving it Although had to pain myself watching them lavishing over bread). I only managed to finish one but I think she is going to love this. It looks better on but I cant wear it and take a picture at the same time - duh!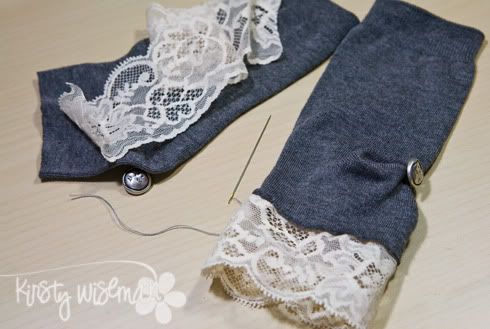 Ive also got a necklace to make (again, simple and understated), a flower corsage for her hair and a wrist purse. Bless her sweet heart, she really does want to approach this Prom with something a little unique and of course I'm def going to help her.
I also made this pretty little post-it note holder and gift bag too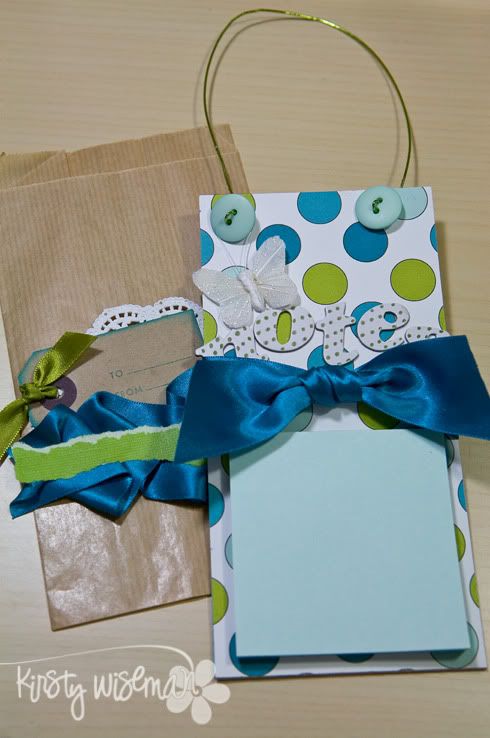 As well as a 1 minute card made with left overs. Seriously - slap, dash, zip!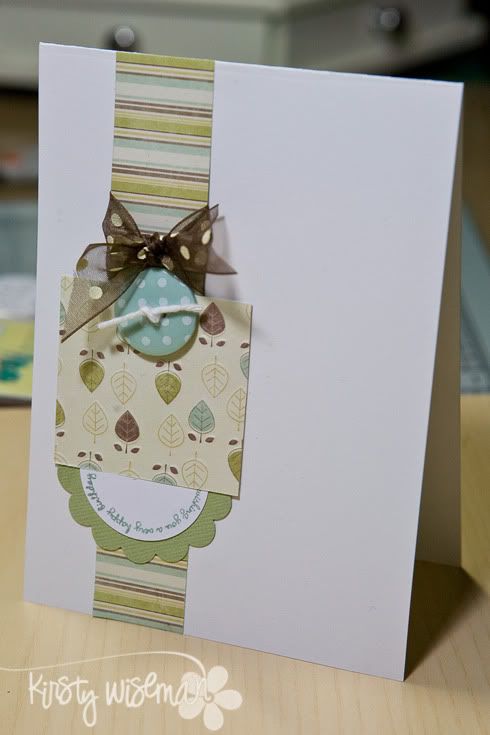 Its been such a fun, happy day. I'll sleep well tonight.
Love


Kirsty

x
Click here to subscribe to my newsletter