I've finally had a chance to unwind and make two cards using some of my new
pwitties
from the craft even this weekend.
This first card was a thrill to bring together using a zip. My local craft shop sells them by the
bajillion
and in colours that would make you salivate. I knew immediately what I was going to do with them as soon as I took them to the till. I curled one half of a zip into a rose and then attached another zip to
cardstock
to make it appear that it will "open". I can see zips being the new
doiley
for me ;)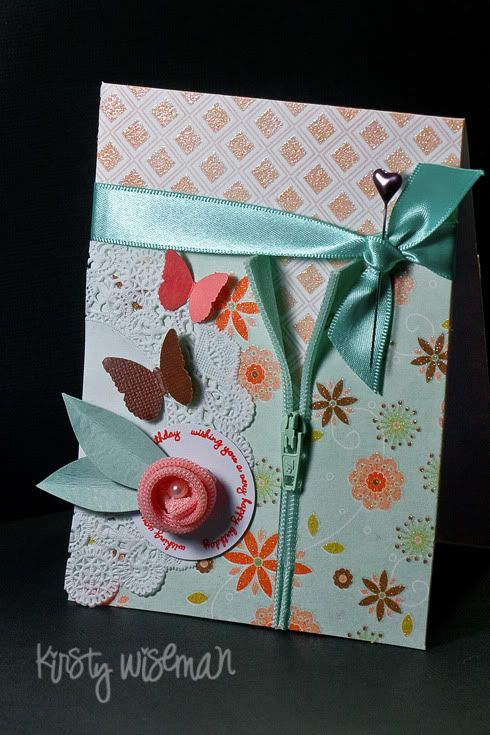 Thanks to
Meiflower
for the
bling
This card was a focus on a Marianne design die that my Mum lent me. It was a PIG to cut out and then remove from the card sheet - I won't be in a hurry to buy this one!
Thanks to
Sizzix
and their amazing cutting system (
the

BigShot
) and the Hobby House for beautiful trims.
So, how do I take my pics?
Well over the years it has varied.
This is my current way
. I use daylight lamps as my office has no natural daylight. So this is my desk before I set it up with just two sheets of
bazzill
as a backdrop.
I sometimes use black or
kraft
as a backdrop
It helps to have a daylight lamps in front and one behind to prevent shadows. I set my
DSLR
onto F8 (for a capture where most products have a good focus). ISO is
usually
350 and shutter speed can vary but if you use manual,
you will know how to set that
. If you haven't got to grips with your camera, you can
cheat
and use Aperture priority on F8 and increase your ISO in increments to get it light enough.
NB: Aperture priority does have a danger of blowing your whites
.
If all else fails, take it in automatic OR if you have a point and shoot, just take your flash OFF (flash totes ruins a card as it creates unnecessary shadows and flattens the detail).
Hope that helps x
Love

Kirsty
x
Click here to subscribe to my newsletter