Between 1983 and 1988 my hair was either frizzy permed or permed-and-growing-out or grown out and then re-permed.
Wow - we were so fashionable.
Only this particular perm was done by a "
Boyfriend
at the time's Mum" (who really didn't like me because I was a common northerner - her words, not mine). She thought it was a GREAT idea to frizz up my head on top of highlighted hair. How was I supposed to know that it was a big no-no, at the time, to perm directly after highlighted hair? I only agreed as she was doing it for free and a free perm was a saving of £24 back in those days!
To my horror, when the perm was set , washed and dried, my hair looked like a haystack-cum-candy floss. I immediately dumped my boyfriend and went out to buy dye for my hair .....
to kind of tame it a little
. And, ahem - this was the result.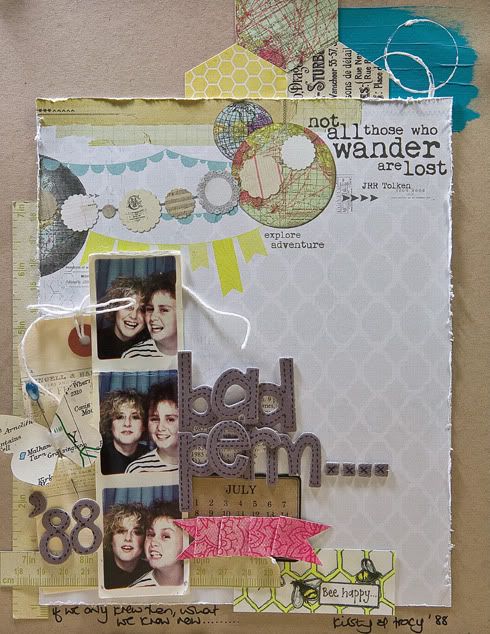 I mean,
I'm
not bitter about it. I think she did me a huge favor of
forcing me to dump her son
. I seem to recall having the BEST summer that
fateful
year and
all without him!!!!!
Hooray for bad perms! And the extreme close up is a real treat for you, here..........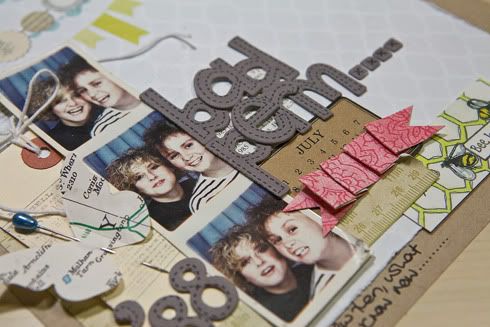 I made this layout using my March and Feb
Scrapagogo
kit which Ive just received. I haven't paper scrapped for a while and tonight, as Mark is away in France with his students, I had free reign to do what the hell I liked in the house.
Ellie and I are having a blast.
For a start off, the remote is OURS. To choose which channel we so dearly wish to change without a moan and a groan. ITS FANTASTIC! Go to France more often, please...... tee
hee
.
With my leftover
kraft
card stock
(Cut from 12x12, I used 8.5x11 for the layout and the excess strip is perfect for cards), I
whizzed
this little number up to accompany a small parcel
I'm
sending out tomorrow.
Finally
........
Ive got a few places left for my online photography course, starting next Friday. Read all about it
here
if you are wanting to get shifting with that
DSLR
. Whether you are a novice or trying to get out of Aperture Priority - I'll get you to Manual in 4 easy lessons over 4 weeks.
Love


Kirsty

x
Click here to subscribe to my newsletter