Ive recently joined an
ATC
swap group on
Facebook
. There are 24 of us split into two groups. The group I am in sends the next person on the list an
ATC
. The next month we send the 2
nd
person on the list a swap and so on - for a whole year. I love
ATC's
. Small spaces that can command big work.
Im
waiting to receive my
ATC
but this is one of the
ATC's
that I sent to my next girl. I made one extra for myself so that I will end up with 24 little beauties come next January.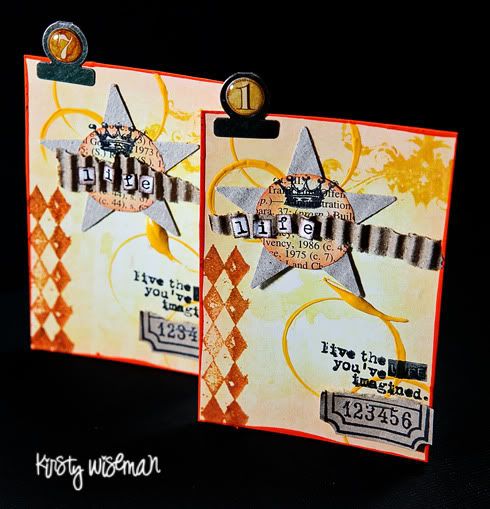 and I wrapped it up in string and sent it lovingly on its way like this: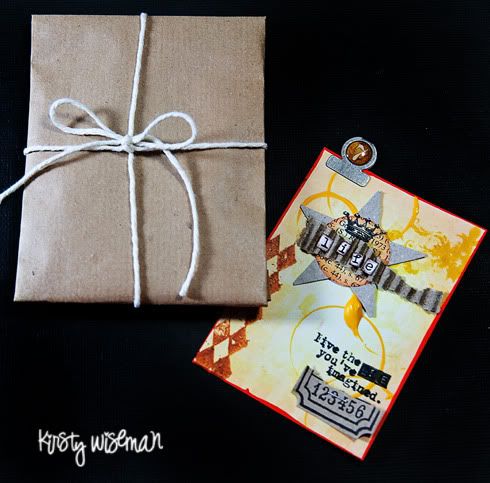 Today I had to go for an eye test. I haven't been since 2008. I am supposed to wear glasses for reading even though my prescription was literally tiny. But since November last year, I have been really struggling to focus plus I have had the most rotten migraines. I knew it was my eyesight and finally I took an appointment today. Needless to say I have to wear glasses all the bloody time now. Not that
Im
really fussed but its a case of "getting used to it" and admitting that
Im
getting old! I used to work in an opticians years ago and already knew that from the age of 40, peoples eyesight starts to diminish.
So I wasn't really

surprised

.
I bought these frames for my readers (just waiting on getting my distance an NO! I do not want either bi or
varifocals
). Don't you just love the sauciness of French Connection UK branding? Its enough to make my Granny swivel in her grave. I am picturing being stood in the queue at our local post office and all the pensioners gawping and gasping. Naughty, really but actually - not so much ;)
Whilst I was at the opticians I had x-ray style photos taken of my eyes. The optician told me that I must go and see my doctor in relation to that. I think I know what it is but its not dangerous.
Just a little unsettling
. Other than that, the health of my eyes are good. And
Im
glad, cos I totes rely on these organs so that I can smother my babies with kisses and admire the beauty of them whilst they remain focused!
Taken last night, its a bit dark - sorry. You might be able to make out my two sticky, toffee puds.
And lastly, I'll leave you with a quote. Ive used
Rhonna's
amazing brushes and fonts to make this truly thought provoking quote. The message I glean from this is that walking away gracefully is key. It's a wonderfully sobering experience.......
take it from me.
Its a mantra we should all adhere to -
imagine if the world stood by this?
**wow, I want to live in that world so bad!**
Love

Kirsty
x
Click here to subscribe to my newsletter