Today was my 41st Birthday.
I took it nice and easy with a cutch from Belles before school, a little me time and then lunch out with my lovely friend, Beth. Beth, who I may add, is expecting for the second time and whom Im expecting to get loads of cuddles with when the little one is born.
I feel protective of Beth and even more now that she is in the family way.
She brought along her son, Josiah - boy, does he melt my little old heart. I could cry the way he runs up to me and cuddles me for no reason
**choke**
This is what she brought for me when she came to pick me up. I can't possibly eat it, its too beautiful although I did let Josiah scrape some butter cream from the top to give him a 5 second hit!
We then went out for a nice bite - cranberry and proper turkey sandwiches - delish!
And was tempted with these but Josiah and I plummed for a mini pavlova and we shared it beautifully.
Meringues are technically egg white so fat free. Fruit, cos it was ....well, you know - FRUIT and the cream had no calories in it because you don't get calories on your birthday.
Poor little Josiah had a terrible incident in the bistro as there was a naughty little boy going around smacking, biting and nipping other children. I WAS MORTIFIED. Josiah had been pinched through his clothes and right through to his skin - its left a terrible mark on him.
Oh I almost sobbed to see him suffering so much anguish.
Children are cruel sometimes.
But it was nothing that Mummy Beth's cuddles couldn't cure.
Before long it was time for the minx to return from school. I let her open my presents and cards from the day because its so much better for her to enjoy the surprise as much as I. I have been very spoiled with the mini nick-nacks that I wanted. Mainly socks, scarves, dress jewellery, iTunes tokens etc. Mark wasn't long home after that and we didn't venture out.
Its too cold
and unnecessarily expensive to eat out as a family these days. A simple Indian take out was just the ticket and Ellie even had an adult portion.
I got a call late this evening from Ellie's connexions team. Ive got to say the connexions team have been so good with a recent upheaval in the plans for starting college this september. We have got an almighty battle about gettingtransport to college as they expect her to catch the bus but its half a mile to the relevant bus stop.
The things that frighten me with this is that
A: Ellie has NEVER left the house ever in her life for a distance of 2oo metres; even more so on her OWN. She hasn't got the strength to walk this distance let alone with a heavy school bag and especially if it was a windy day, she is so underweight, she'd get blown over!
B: She cannot self propel her wheelchair, she has no strength.
C: She is vulnerable. If anyone went up to her and said "Your mum has been in an accident, come with me" - she totally would go.
This scares the hell out of me.
But it seems that the authority might not be able to provide her with the appropriate transport to get to college so it could look like that, on days when I'm away working, I will have to fund £20 return in taxi fares to get her to college. The bus is peanuts in comparison to catch and fuel for me is about £1.50 as it is - BUT £20?
JEEZ.

I'm
going out of my mind on this.
She is NOT ready to learn to walk this distance independently
Anyone have any thoughts or experience with this?

I thought Id round the day off by unwinding in my little old room listening to Lana Del Rey (my new fave purchase). Ive come up with this little number using lush ribbons from
Fantastic Ribbons
. The whale stamp is from Stampin Up and the boat was made from the new banner punch too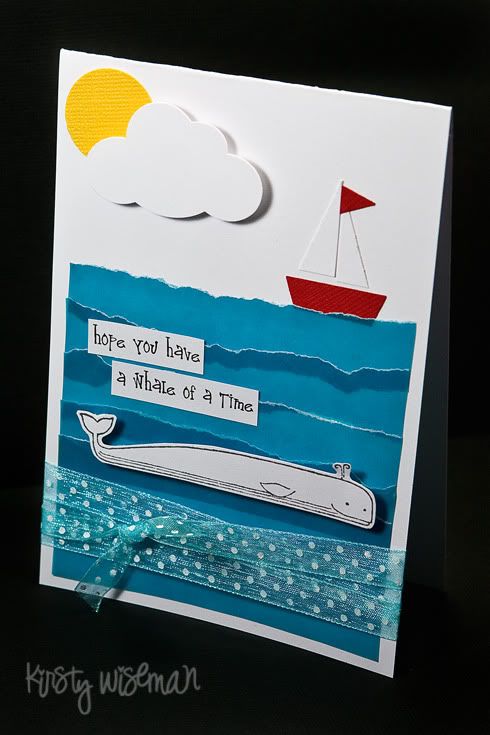 Ok, the part's over and my special day is 366 days away - providing the Mayans were wrong and we all don't get blown to smithereens in Dec 2012.
Love
Kirsty x
Click here to subscribe to my newsletter