When your common denominator is crafting, it's never hard to make friends. I mean, you don't have to talk craft 24/7 but what I do mean is that if you run out of everyday life things to talk about, you can fall back on chatter about ribbon and buttons etc tee
heee
.
On Friday there was talk on
Facebook
about a little meet up with local girls to Manchester. There was a craft event in town and I so needed to spend some Birthday money on pretty little things. I had met Angie before (this girl makes me laugh so hard and she always has a smile on her face) but Id not met Julie and Joanne in real life. But as soon as I greeted them with a hug and a smile I swear it was like we had known everyone forever. We plodded through the event taking time for coffees and lunch. There were no awkward moments or uncomfortable silences. But there was a lot of laughter, jokes and chatter.
It was almost time for the show to close but we didn't want to go home, so we nipped over the the
trafford
centre for a bite and a cheeky glass of wine. Only mine and Joannes feet were on FIRE from traipsing around all day. I, personally, need new shoes like a hole in the head and I seriously considered buying slippers instead of flip flops but the shame of bumping into any of my neighbours put paid to that! Poor Jo was in more pain than me and I swear my pain was bordering on labour-like.
After a bite and more chatter it was time to go home and I can honestly say it was one of the nicest and most fun meet ups Ive had in a long time. Buzz words from this show was "
Arru
-gate instead of
Harrogate
", bunions,
facebook
, ribbons,
cath
kidston
rip offs and
monacle
. You won't know what I mean but I'm writing them here so when I come back to read my blog when I'm 75, I will laugh my head off. When I got home at 7.45pm I fell asleep for three hours - yes, I was that knackered.
Now, I'm truly showing my age.
Today was "doing bugger-all" day. I proper mean that. Save for food shopping (yawn). We were invited round to my in-laws for a super duper My Birthday/Valentines nosh up
which also incorporated this monster!
I may have partaken in a cheeky glass of
Sauv
Blanc
and I may have gotten a tad tipsy. In sum, the last 48 hours has been gorgeous and I'd do everything again in a heart beat (although the sore feet I would totally swerve to avoid!).
Lastly, I'm leaving you with a couple of similar cards that I made with some new stamps I bought at the show. I also used my fab new
Sizzix
Big Shot to cut out that lacy envelope!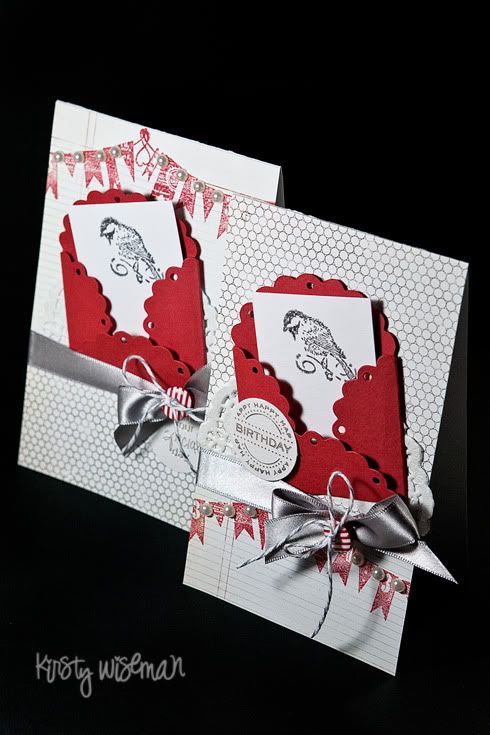 You see those
delish
little pearls on the bunting?
Let me divert you to a little shop that has a shop full of these babies.
Mei Flower
is one of my fave
nickety
-
knackety
shops in the world.
With postage at 99p max, you can shop to your hearts content and know your future projects will have a little bit of
spesh
on them for next to nowt!
Love

Kirsty
x
Click here to subscribe to my newsletter