Part of my
Online Photography Course
that I am teaching covers Design Principles or in 'togs terms, Composure. You are either born with en eye for photography or you can be taught it using some basic design rules. I think the Rule of Thirds was something that I had come to me naturally as I always seemed to draw pictures or take photos using this method and never knew it was an art form in itself.
We are in week 3 now and I have done a whole batch of principles for the students to mull over and as a last addition to the gallery I shared with my students, I took a picture (with my iPhone, no less) of my sweet little, red shoes. Only I made them into a heart to rest on the sweet spot, in the Rule of Thirds.
There are several ways that the "Rule of Thirds" can be interpreted and here is another, but used on my card.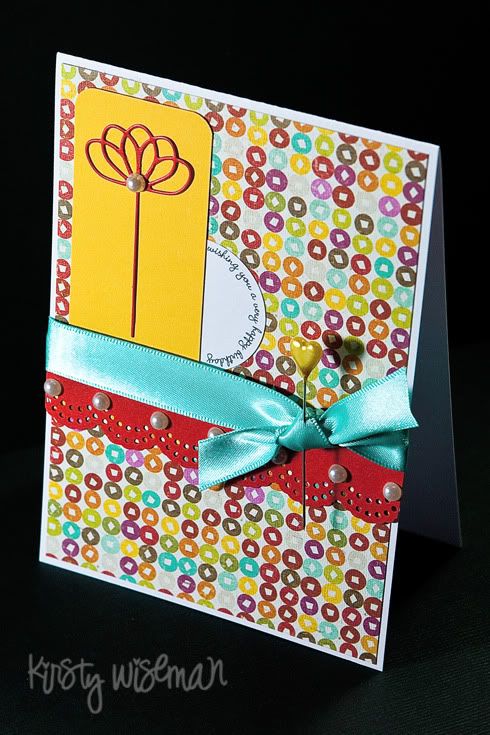 Mastering design rules can make creativity so much more WOW as opposed to
MEH
!
I used my fab
Sizzix

Big Shot
to cut out that delicate flower die (I have no idea who makes that steel rule die, sorry),
Mei Flowers
for my little pearls and
Tonic Studios
for that
coolio
border punch that I shall probably take to my grave.
What else? Oh yeah,
yesterdays
bunch of quotes?
Weren't
they lovely. Your comments and emails were so touching and
I'm
glad you found an affinity with them too. Well, I found another quote today that I just loved IMMEDIATELY. I think all us big-girl cry babies can identify with this!
Isn't
it gorgeous?
FINALLY - Add your name below to be in with a chance of winning a lovely big bag of candy coloured buttons from
Fantastic Ribbons
. You can also try
HERE
for another chance PLUS all the
DT's
blogs too (links to other
dt
blogs are there!).
Enter all of them, you never know, you might win twice or even thrice!
Love

Kirsty
x
Click here to subscribe to my newsletter