First off, Let's start off with a quote.
I'm
feeling so
quotey
right now, I want to write a book about the best ones I have seen so I can keep it with me at all time, read it and smile that I think "not alone".
So, this inventiveness thing - yeah?
It's probably all been done before but what the hell,
I think I invented something
. I'm going to smother myself in self adulation, clasp my hands and look wistfully at everyone who may applaud me on my apparent ingeniousness or die with fright from the sheer horror that its old hat (pick one). Either way, here is my inventive baby. Using a glue gun; those bloody things that burn your finger ends away, right to the bone and give off
whiffy
-
burny
skin aromas **pong**
I was faffing with my hot glue gun tonight, for a project that I made for Fantastic Ribbons. I always use a heat resistant/non-stick mat to rest my glue gun on. So when I came to clear up from the ribbon project, I noticed a lovely mound of silicon looking/feeling melted glue.
Oh I do love to play with that.
As my glue gun was still hot, I
squidged
the rest out to "play" with and made this pattern here - next to the tag. As it lifted off the non-stick mat so easily, it was like a piece of art, waiting to be abused by ink!
I thought "
Im
going to use that as a mask. And so I did. I squirted yellow ink over the top and was left with this lush pattern.
I built upon the tag and
obvs
got too carried away and hid the masking bit, but I'm chuffed with my sunset coloured tag and how glorious she shines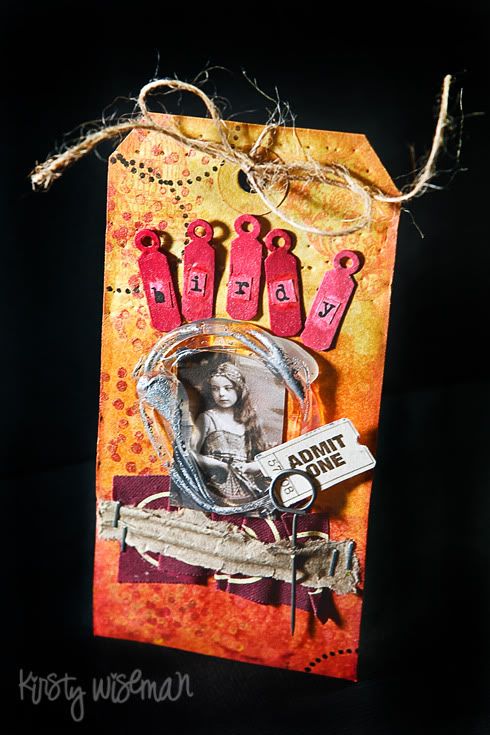 But the best thing was, I further made more hot gluey magic by framing the picture of the little girls and etched the frame with a daub of silver ink.
**skips happily at such inventiveness that's probably not inventiveness but still.....**
So, the ribbon project?
This week the
DT
at Fantastic Ribbons have been making accessories using ribbon. Today was my entry. To see how this lush rainbow ribbon bow was put together, come
hither
Don't forget to leave your name on either yesterdays or today's post to be in with a chance of winning a huge bag of buttons from Fantastic Ribbons.
Love

Kirsty
x
Click here to subscribe to my newsletter