For a numbers of years I have had many requests to run an online
DSLR
training course as many new
DSLR
owners can't always travel to me; to be taught how to use their camera. I have taught over 120 people to take their camera out of automatic, several of whom have gone to take their photography seriously as a hobby/business. I've never considered teaching it online, until now.
Im
ready for it; I like to share :)
But why should you choose my online course?
Well, no doubt you will have seen 3.4
bajillion
of these particular courses online, right? You may have taken one or two of them and perhaps still can't fathom how to use your precious, pricey and precocious
DSLR
, right? Not with me you won't.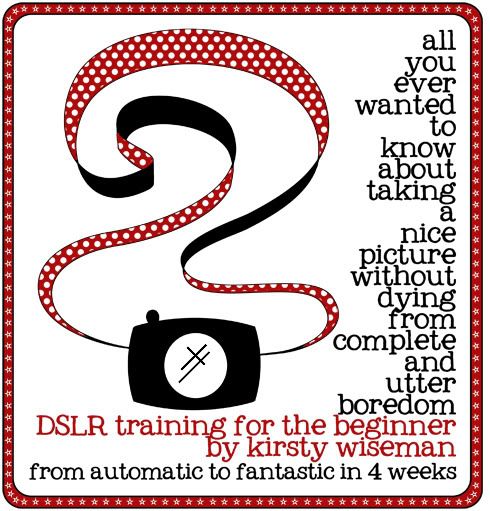 The way I teach is non-tech speak. There is, initially, no scientific jargon that makes you go cross eyed and head explode. There is no unnecessary amounts of theory before you switch your camera to even its simplest Aperture Priority. And there is definitely no speed to which you can learn, although the course is delivered to your inbox in bite size chunks (every weds for 4 weeks). There will be video tutorials that you can access ANYTIME you like plus course notes to explain in both layman's terms (and tech speak for those who really feel they need to understand specifics).
From client feedback I believe that its the layman's terms that makes taking photographs so much more enjoyable.
You will learn not only how to use your "beast of a camera" to its full potential but I teach you all the secrets of composition and lighting. How to get the best from kids, men, still life,
christmas
tree lights
bokeh
, moving objects, pets, portraits, group shots, flash photography and low light situations too.
I'll be on hand almost everyday to answer your questions on a PRIVATE online networking site plus I provide a critique of your three best photos from each assignment; explaining gently if you achieved the points I've set.
Who can take the course?
Anyone with a
DSLR
. Any make and any model. As long as your camera has Aperture/Shutter speed Priority, RAW file imaging and a lens minimum of 18mm up to 300mm (and those in between)
How long will it last?
It will start 1st February and will last 4 weeks up to 22
nd
February with course notes being emailed every Wednesday. You will be sent a link to a private network site (
Facebook
page with a chance to chat with other students, share photos, ask questions) plus links to PRIVATE video tutorials.
Overall Objective
By the end of week four you will have had all my best, if not secret notes on how to better use your camera......
in a language that doesn't make you want to bag your head against a brick wall.
Put it this way, when I did my first set of photography courses (at £200 a pop), the guys on the course spoke to me with so much tech jargon that I left the event barely knowing a smidgen of what I was supposed to doing with my camera.
In retrospect, I'm committed to not confuse you
! I'll reveal how I get that killer portrait shot, how to freeze frame a moving object and how depth of field plays a major part in getting the right look.
How much is the course?
The online course is £60 which, at £15 per assignment, represents excellent value for money. You can book your place at this link here
now
, to secure a place (I take
paypal
or can organise a
BACS
transfer). If you prefer, you could always opt for a private one-to-one session at £135 which is the current way I teach
DSLR
photography. More details of that is
here
The course has limited spaces so that I can critique your photos and give the best of myself to the group. I will run the course again if numbers sell out quicker than I anticipate.
Love

Kirsty
x
Click here to subscribe to my newsletter