YEEEP
! I am so excited that those who booked on the course are
actually on the course
. Tee
hee
, that sounds a bit flipping stupid but I know lots of these people (maybe minus 3 - they are from the USA!) ....... crafting circles create grand ripples. Hope you are one of the lucky 3 kids to bag the last 3 spots on my Online
DSLR
Photog
course (see details, 2 posts below!).
I have had two more ex-students emailing me with feed back on top of yesterdays volunteers:
Kathy Rogers: - One of Kathy's masterpieces
"I have owned an SLR for over 15 years and am
embarrassed
to say it never came out of automatic. That was until I spent a wonderful day with
Kirsty
, why did I wait so long?
Kirsty
explained in
simple
terms how to improve the framing of my pictures and how to take my
camera out of automatic. The results speak for themselves, I 'throw away' less pictures and receive many complements from people that see them."
Ruth

Hornby

: - One of

Ruths's

masterpieces
"I can't recommend
Kirsty's
course highly enough. I went along with a little knowledge of my
DSLR
having previously picked up bits of information about aperture, shutter speed etc, but lacked the knowledge of how everything bolts together properly. After a very fun filled day with
Kirsty
I was linking all the elements together and more importantly understanding how to apply them in different situations. Most importantly it gave me the confidence to shoot fully manual all the time!
I drive a manual car, and now I can say I drive a manual camera!"
So today? Well, my parents are over which was an unscheduled event for this weekend. But I was so happy when my Dad called on Thursday to say they were coming. Such a treat. My Dad and Mark went
Geocaching
today (wasn't it a beautiful day?). And us girls went on a little shopping trip. I took Mum to our nearest (but not really local) craft shop. Its got all sorts of
odd's
and end's which I like to rifle through. We got chatting with the ladies in the shop (it's called
Cardio
, in
Orrell
) and both mum and I spied a card with a topiary tree made from split polystyrene-type balls. We loved it! Mum and I created our own versions of it it tonight in a little craft-a-
thon
whilst the boys watched the footy (yawn). Mum
hasn't
quite finished hers but here is mine, in all its pin pricking glory - those pins wrecked my fingers! Each pigging little blossom had to be curved with an embossing tool, then pin pricked and then jammed into the ball.
Put it this way, if anyone asked me to make more than 3 in one go, I'd kill myself.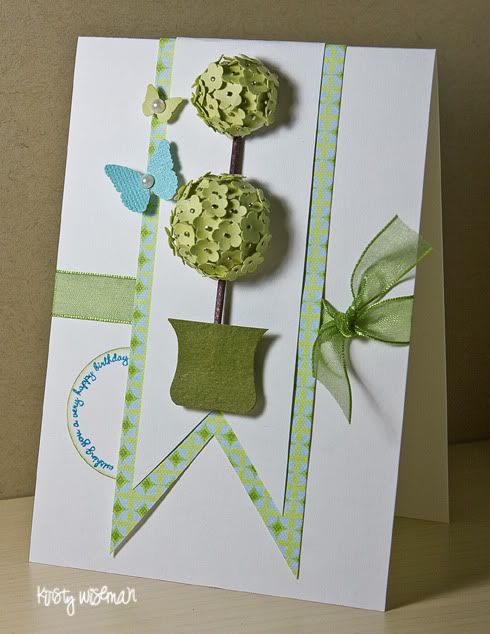 I bought the cute
blacky
punchy thing in the middle of this poppy. Its not a poppy head per
-se
but when I saw the punch, I knew I had to have it JUST to make poppies. I mean, it would make a fab snowflake or
starburst
for a space scene but I much prefer it as a poppy head. I hand cut and rolled the petals and
Im
as pleased as punch with the results. Maybe its the blue background that just adds the appeal?
**shrugs shoulders, as she trues to snigger at the puns of "punch" and (poppy) "appeal"**
And finally, this card here. I bought the pear punch too. I just have this thing about pears, ever since Basic Grey brought out a pear paper from about 3 years ago (maybe more - 2008?) Its great for anniversary cards that are not rammed with flowers and hearts. Simple and clean;
I don't normally do simple and clean either!
And
thats
it, me old
muckers
.
Toodle
pip for now x
Love

Kirsty
x
Click here to subscribe to my newsletter