I fell asleep tonight (Xmas Eve) on the sofa and woke at 1.30am.
Needless to say I was wide awake for AGES so I thought I'd actually scrap a page. I honestly don't know what came over me. As Ellie
doesn't
get up until late morning (seriously, our girl prefers family spirit to presents and that is the god's honest!!), I can afford to scrap until 4am and still get some sleep. We alternate our Christmas's by having one in
Wigan
with Marks parents and then next time we go to my parents. Ellie loves both sets of
grampies
and is happy to spend Christmas day listening and laughing. I think that's such a treat for me; more than opening my own gifts.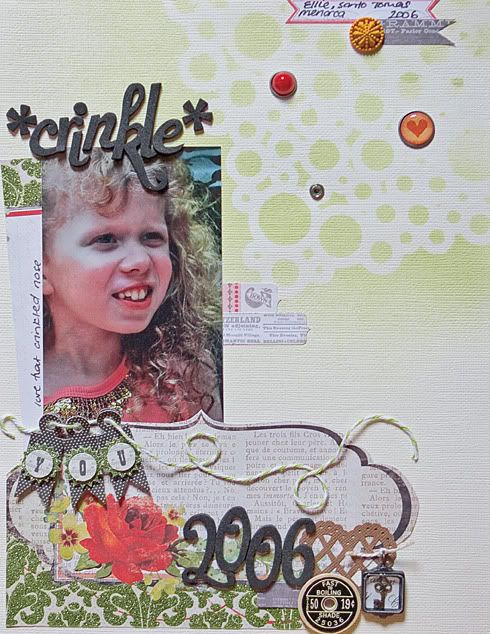 All she has asked for is bubble bath this year (could cry at the simple things she asks for) but I
couldn't
just buy that for her. She will have enough
smellies
to last a year but in the mix Ive bought her lots of
jammies
(her fave items of clothes), slipper boots and a few
DVD's
as well as money to put in her piggy which, if I know Ellie, will last her forever as she is the kind of kid that makes considered purchases. **sensible**
Right,
I'm
off to just check in on the pressies under the tree to see if Santa has snuck in something secret for me. Ive asked for a folding bike which I want to buy a dog trailer for so that Eddy and I can go to the seaside in the car and so that I can go on long cycling sessions along the promenades and make stop offs so he can have a walk and a sniff at intervals. I'd dearly love a duchess bike, like this one:
but its just not practical for transporting.**one day, hey?** A folding bike will just have to do;
they just

don't

look as swish as a Duchess with a beautiful wicker basket, huh?
Anyway,
I'm
waffling so
I'm
off to bed.
Have a simply wonderful
Christmas
and enjoy being with the ones you love. If you can't or won't then you can have some from me
XOXOXOX