I promised myself I'd do these, this year. Only I don't have half of the supplies he uses so I've had to improvise a little. Cue
Rhonna
Farrer
and her many, many solutions to all your hybrid wants and desires. I have to say that my "Tim tag, day 1" is not precisely like his version
HERE
.
No, mine looks more like this: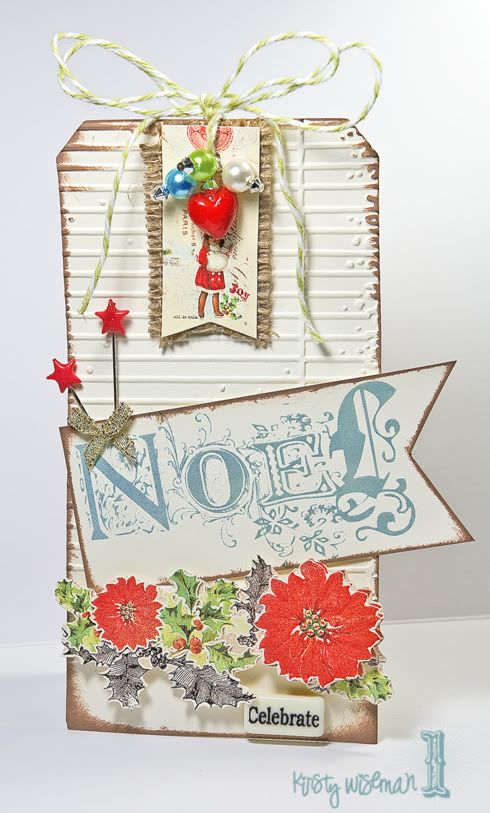 I used
Rhonnas
Swell
font and
Christmas

Junque
pieces to give this a Tim inspired tag. I did use a Timmy embossing folder too, a bit of ink, some hessian, some twine and my most
fabbest
beads. I have to say that I am in LOVE. Yes, yes,
I'm
a day behind but look below.
I'm
on track with my version of "Elf on the Shelf".
If you
haven't
heard of it, let me tell you this. Its meant for small children and the whole point is to hide the Elf in the house, out of reach to them (but in sight!). They
mustn't
touch him as he is a ward of Santa Claus and is there to report if they have been good or bad. Children cannot wait to discover what he has been up to when they wake everyday but are also in the knowledge that they must be GOOD on the lead up to Christmas. It's been a tradition in the USA for a good while and this year, its gone CRAZY in the UK. But I am NOT paying £30 for one and besides, Ellie is 16, you know! However, I felt bereft of this new trend so I had to improvise. I deigned to take a toy from
Ellies
Treasure cupboard (a place where she keeps all her old toys) and found a snake at first. I tried rhyming it, like snake on a rake etc - it sounded
poopy
. Then I found a ladybug toy but rhyming ladybug was rubbish. Then I found a frog! Hooray;
Frog on a Log was born.
We both named him Alabaster Noodle-Plop. The aim of our game is to just make each other laugh, with him doing silly things (age appropriate) for Ellie to see the
devilish
side of me.
I'm
an evil momma, but like a white witch kind of evil ;) Yesterday he was caught
bungee
jumping over a pan of boiling eggs
and today he was clinging onto the edge of the toilet seat.
My daughter was crying with laughter on both occasions. My mum has disowned me until I start to behave, but I'm still 22 in my head, you know ;)
So thanks to the Elf on the Shelf phenomenon, we are having a blast in this house albeit with Frog on a Log.
**Appendix: That toilet is my baby; it is bleached everyday - you could eat your dinner off it
**Appendix 2: No frog was harmed in the making of these photo's and these stunts should NOT be tried at home ;)
If you have any Elf on the Shelf shenanigans, link me - won't you?
Love
Kirsty x
Click here to subscribe to my newsletter