I've not been feeling especially "Tree putty uppy" this week. I knew today would be the day that we would have to finally drag it our of the loft. I've got a pile of work, a mile high to do, so I was sat in my office; sorting and ignoring the creek of the loft being open and the whoosh of the ladders falling from the entrance. I totes wasn't feeling any Christmas cheer until Mark put MTV on and it was the top 50 Christmas songs playing. Whooooooooosh, I was straight in the lounge and sorting out our decorations without a second thought. Oh! Belles and I had such a good old sing song whilst Mr Grinch (Mark) sat in a corner saying the lounge looked a mess from all the boxes and trimmings. Puh!
We didn't care, we were
toooooo
busy crooning.
When I have some good light, I'll take a proper photo of Wiseman's grotto.
Meanwhile, Day 3 of Timmykins 12 tags of Christmas. His tag (
here
) looks awesome and typically grungy of him. Buuuuuuuuuuuuuuuut mine? Not so much.. Yet again, Rhonnas awesome hybrids saved the day for me because I don't have so much Timmy stuff.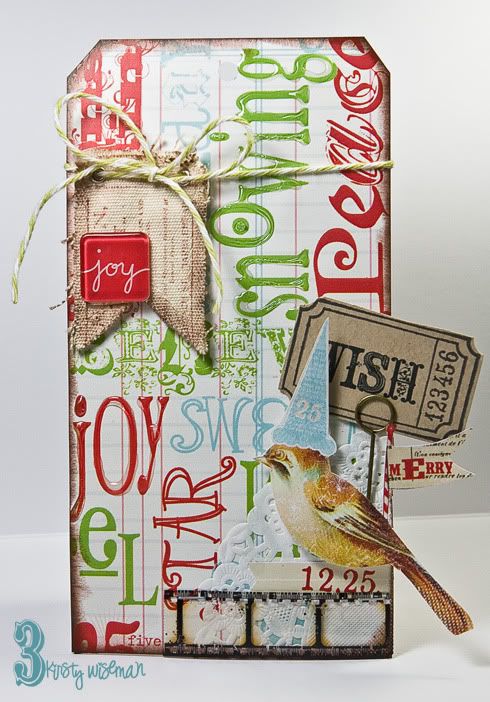 I used several of her fonts (namely
Sack o Potatoes
,
Jayabean
,
Swirly Gig
and
Swell
fonts) to make the background and the bird was cut fromfrom the
Chevron Tool Kit
hybrids (ITS AWESOME).
And lasty, that darn little froggy on the loggy. Not a well behaved bone in his body. He has been curing his hangover this afternoon in a dark spot under the stairs.
Even I'd not stoop that low to slurp wine off the counter top. No, I'd grab a straw and do it a little more elegantly. Mwahahahahahaha.