Today has been a retailers dream. I felt nauseous waves of panic every time I went to pay for things today and only half the pressies are bought. First of all Boden are having the sales of all sales. Boden
and I are in love
. Boden will be shocked that I am buying a size smaller than previous too; that's how much I deserve a shopping spree. I earned it.
Go me!
Then I went about the net to buy gifts (gotta love Amazon). Then I went food shopping and when you shop at Asda; a pair of brown leather boots kind of just land in your shopping trolley. And a skirt. And purple tights. Its retail sabotage wars on customer trolley's; it's not right, is it?
I also fell into a craft shop, too. We don't really have a dedicated craft shop in our immediate area but on our way back from a college introduction meeting today; I passed one. And I got sucked right in. I've known Wendy at Cardio (Pemberton, Wigan) for years but never seem to be in that area of town. Its quite a faff to just go on little sneaky trips to buy glorious and wondrous treasures. So when I fell in the shop late this afternoon, I thought I'd only spend a tenner. But no. The treasure that lay within was so sparkly and ching-chingy that my purse started to shake in my bag from the fear of the impending damage. Fortunately, I was quite sensible and bought a number of little oddments plus......
this baby here - complete with treats stuffed in every orifice ;)
Isn't she magnificent?

(archive picture, mine isn't as colour co-ordinated as this!)
So, this college visit with Ellie? Wow, it was fantastic. We have been told that this particular college has THE best pastoral care in the county. Its a Catholic college (mainstream, not special needs) which usually means that its a high achieving. They have ZERO tolerance on the issues that Ellie faces from her peers in the classroom at school, which can only mean one thing.
Ellie is going to fly.
I so know she is. The small classrooms (between 6 and 10) per lesson is going to allow her to flourish and be heard and recognised and fine tuned into this amazing person I know lays hidden under that school-beaten shell. Ellie came away with such a happy little face; she couldn't wait to tell her grandparents on the phone when she got out. She said that she is going to try extra hard at school to try and gain a higher entry level.
I totally believe her.
The college don't know how much they made her feel "mainstream" today. And they made me feel sane into the bargain. You ask any Momma of special needs children if they ever think they will be sane again; I know the answer for sure.
Maybe all special needs
Momma's
need to look at this college! Its the elixir of getting a piece of sedation!
Today was a good day.
So good that I made this with one of my new stamp and punch sets from that crazy punch trend setter, Martha x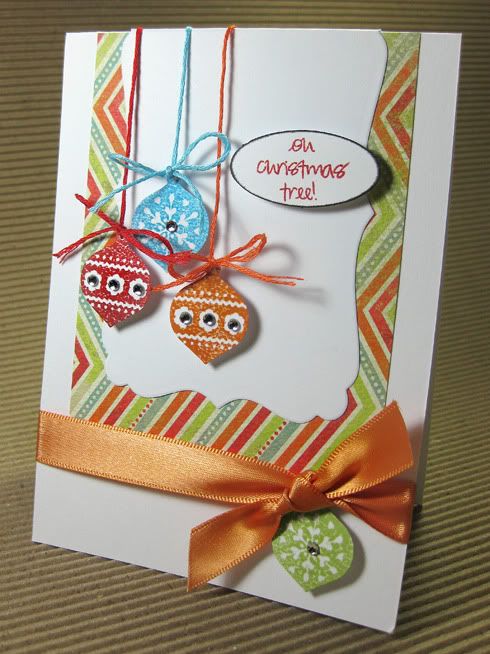 There ain't no way I'm making a run of these for my cards this year cos threading those baubles took me 739103958573821 hours and almost sent me Doo-lally!
Love
Kirsty x
Click here to subscribe to my newsletter