I always cringe when I cut into new patterned papers. It's like I'm murdering them even though
I'm
about to delight myself with a layout for my albums. And then when I have leftovers, there is absolutely no way I can throw them away. They are far too precious for the bin. I keep every little bit (well if its bigger than 2cm squared, I do). They will be there for cards, punches/dies and for Belles...... if she ever fancies faffing with my supplies.
Ive had these strips (on the layout below) for a year now and knew I'd make a layout with them one day. That day was today when I picked them up and chucked them on this layout. I didn't have a plan in my head, they just went on the layout and I stapled them on (to prevent
RPI
on gluing them all down - there could have been a mile of
DS
tape on that there layout!). I found a beautiful photo of Belles, from our hols in Tunisia in 2001. Oh how we loved this holiday. And how the locals loved my Belles.....with her
blonde
, curly hair and blue eyes; you could tell she was a vision to the Tunisians. Ellie would
Shukran
(Arabic for Hello) to everyone because of the fuss they made of her. And here, by the pool, she would settle in the shade and colour in and wait for a waiter to pass by and call out hello to her. The papers match the photo a treat!
And a
christmas
card (
YURKS
! - I mention the C word!). This is my first of 3.4
bajillion
although it will be for a close friend as its not a typical slap and dash quick make (and quite frankly, I
haven't
got time to spend 20 minutes on every card I make for
crimbo
........I want to sit down and eat my turkey with my sanity in tact, thank you!)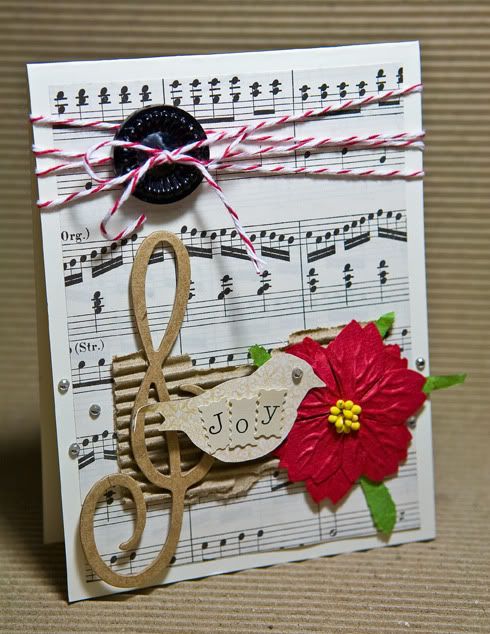 I'm
away to Leeds today for the
Scrapstar
scrapping event so I must
toodle
off to my bed for a good nights sleeps as I never get a wink when
I'm
away........
too busy having a jolly good time.
PS: Ive got my plan sheet through for 5
th
October
QVC
show at 2pm. WOW..........when they planned it as Colourful, I did not expect to be so
C
O
L
O
U
R
F
U
L
. I LOVE IT!