aaaaw
, in 6 years Ive made 1800 posts. That's and average of 300 posts a year,Wow.
And
Im
as quiet as a mouse in real life.
Ahem.
Well three days without blogging hasn't affected my sleep, I can tell you. I normally blog before bed so I can empty my head and sleep without a thought on my mind. Of sorts. But I have to say, having a GREAT roomy at the
Scrapstars
event was enough for a ease into a restful slumber.
Emma Trout
is just delicious. I totes fell in love with her work a number of years ago and I cannot believe I hadn't met her until now. She is such a lovely girl. I proper mean that. I offered to take some pics of her as a gift for being such a fab roomy and this is my fave out of the lot.
My 24-70mm F2.8 L is pretty much in your face and it takes some getting used to having it shoved in your mush. But Emma didn't mind one bit and plus the fact, I think she is a natural in front of a lens. And seeing as I get a bajillion emails about my images, I will give you the deeeeets on the settings I use
F5.6
.....Shutter speed 1/80
.....ISO 320
.....RAW format
Wash: Slight desaturation with a honey overlay on 20% opacity
4% Dodge on the eyes
.....2% Burn on the lashes.
Edit time 20 seconds - I won't be a slave to edits, you shouldn't spend more than 20 seconds on proofing. It's worth keeping your XMP data for quick fixes.
The
Scrapstars
event was fantastic and so well organised. Delegates had to only sit in one classroom (without flitting hither and dither) so that the teachers came to them. In all of the 6 years I have been teaching, I have never experienced that at an event and makes perfect sense to me. Every delegate made the whole (often nerve wracking task) of teaching so comforting. It was a relaxed event with 8 classes. YES! Each student took 8 classes and I have to say that I thought every one was simply divine. May I include my own in there? Maybe I'll never be brave enough to boast at such a thing but still.
L-R: Emma Trout, Moi, Caroline Lovett, Lida Witte and Rachel Elliot
Caroline and Lesley did a superb job and there was never a moment where nobody had nothing to do. If you ever are stuck to choose an event, please consider
Scrapstars
. I urge you. And yes, its up north but then I am biased as
Im
a
yorkshire
girl anyway.
So I came back to my normal life last night (
sunday
) - to my loves and treasures. To my girl who loves my cuddles the most and to my boy who missed licking my feet. And to grumpy
Marko
who missed having his daily moan (and whose moan I missed ringing in my ears!). **sigh** Our unit is one that keeps me stable but makes the heart grow fonder of in absences like this weekend away. So after cuddles with my guys, it was
Downton
Abbey time. This is my time....my absolute selfish
tv
hogging time and boy have I been desperate for that to come back after the first series. Isn't it just gorgeous? The photography is superb and the stories blend so seamlessly together. I just love it. I would fight anyone who thought they might love it more than I do. I secretly know that Julian
Fellowes
wrote that JUST for me. I'm obsessed.
And so to today. Belles had a hospital appointment at
Alderhey
. We have a love/hate relationship with this hospital. Most appointments end in frustration and no resolve. Belles and I chat constantly
en route
to the hospital appointments wondering how long we are going to be sat waiting in the boiling hot waiting room only to be told "And yes,
erm
....see you in 9 months". I hate going over her history time and time again for them to only weigh and measure her and then sign us off with a note to come back another day. I COULD LITERALLY SCREAM. And Belles always looks at me with vacant eyes thinking the eventual trip to
McDonalds
might just the the only thing she looks forward to every 6-9 months as a respite from the horror of a specialists
tait
a
tait
.
I digressed.
The upshot of the visit resulted in some trial medication to ease a delicate matter with Belles. Although the next 3 months will be difficult for her as she has to give up fizzy drinks, blackcurrant cordials and her beloved caffeine free coffee. Oh I can't tell you how this made her baulk. The poor kid has very few luxury treats so omitting coffee from her morning routine is going to be a killer. However, the doctor (well, registrar) was an absolute diamond and whose bedside manner was far more wonderful than anything we have been subjected to before. Believe me, there are some monstrous doctors out there whose cold, callous hearts are as fierce as the Devil's himself. So even though Belles beloved coffee has been snatched away from her in one breath, the pleasant and positive appointment today left her a little amused at his handling of the next 3 months management of her delicate disposition. Its so strange to walk out of
Alderhey
hospital with no tears or snot running down my face. In fact, I can count on two fingers how many times that has happened out of gazillions of visits.
Yay
!
To finish, I have two cards to share. One of them using these gorgeous little
butterflies
from
QVC
(talking of which, I am on again next Weds at 2pm - join Marion, Sandy, Amy and I on 4
th
and 5
th
Oct). They are just such fabulous value for money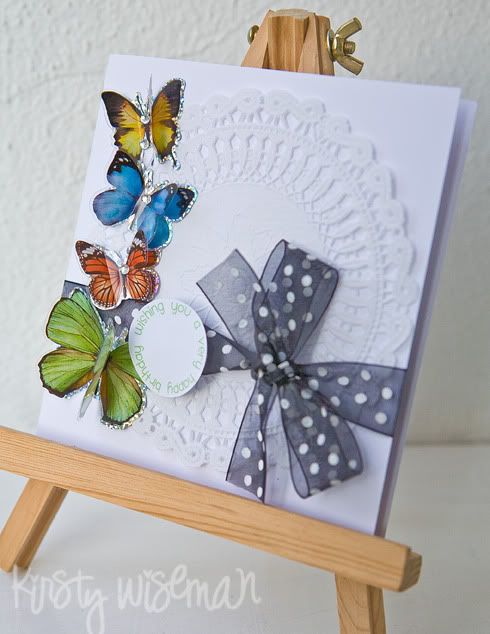 And this, made from scraps. A humble offering for an emergency thank you card.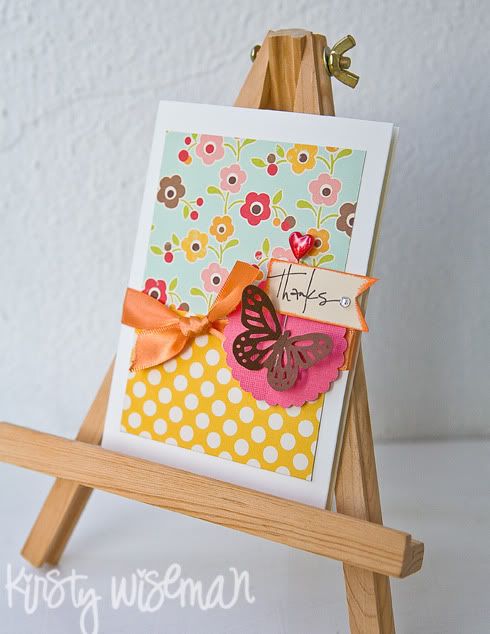 Right,
that's
it.
Neeeeeeeeeeeed
sleeeeeeeeeeeeeeeeeeep
.