Lord knows that I loves me some
ProMarkers
but personally, I do love the soft watercolour effect of the
Aquamarkers
the
mostest
. So much so that I've just stocked them in my shop for you to consider on your next craft splurge (
HERE
).
Aquamarkers
, although sold in packs of 12, can be a million colours. You can use them with a bit of water or lots of water to reduce the colour PLUS you can mix them with other colours to create millions of palettes. This is why I love them. PLUS! You can afford to let the kids dabble as they are,
after all
, only pens. But fab pens, you know?
Ive used some with this BEAUTIFUL angel stamp (the top left one, one in a set of four available from this awesome chick,
HERE
). Ive gotta say, she is so cute and with a name like Robyn, how could you resist? She comes blank for you to colour in and she comes in coloured (digitally).
Ive used some of these colours below - the black washes to a beautiful gray to shade on her
winglets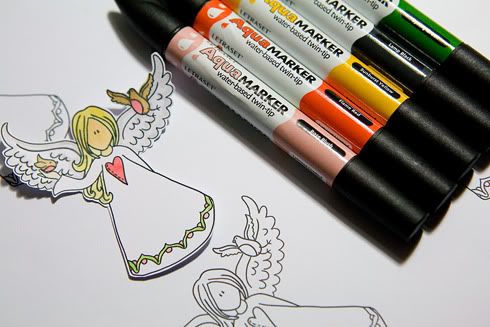 Simply scribble the pen on a non-stick craft sheet and apply a watercolour brush to the ink to wash the colour down as many shades as you like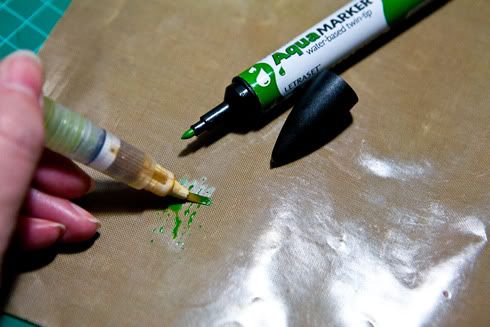 Carefully colour her in. As she is a digital image, Ive printed her onto card. If you wash the image with an over wet brush, the ink will disperse because the computer printer ink is water based.
You **can** use
aquamarkers
on digital images, just be very slight with it.
Note: Of course, you can use

Stazon

with clear stamps with

aquamarkers

with no running at all.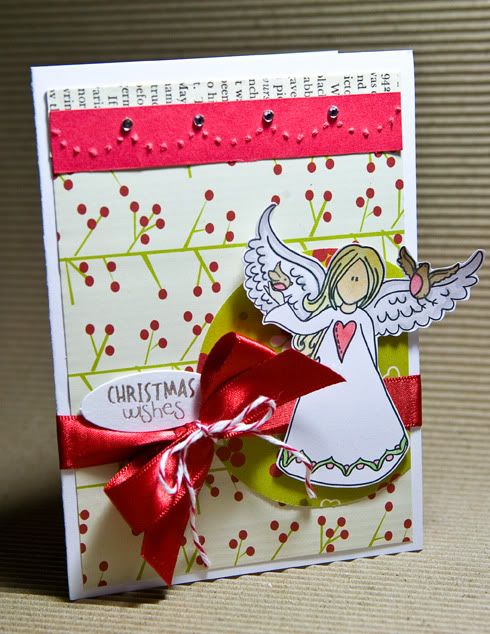 I'm off to London today for an interview - I'm super duper excited as its not strictly a job within the craft industry but its craft related. Barking, right? Belles will be at home with Nana as she is sick plus the pooch will find this amusing as he loves Nana to death.