Protection. Hmmmmm. Its an issue with Apple stuff. They make everything so super sleek and shiny only for it to be scratched to thorny scratchiness within days of ownership. Like I said yest, I got me an iPhone. The one they sent is actually going back. Its just too small for the amount of garb Im going to be stuffing on it, so Im selling my old phone and iPod to pay for a 32gb - Im always robbing peter to pay paul! That said, I have played with it to check out its potential and so far, the investigation is proving fruitful. Ive asked thousands of questions on Eff Book and Twitsville and I'm surprised how many people have them and what lovely advice they have given me. Insurance
being key
. As Apple did not supply any sleeves for the phone (massive design error, if you ask me....unlike Blackberry who give you an uber cool pouch) I decided to make one.
Spotty, natch!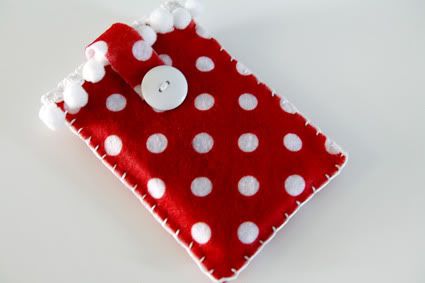 I decided to make one, more in light of my Deputy Editor at Crafts Beautiful, whom smashed hers to smithereens recently - so I made her one for her replacement phone, too.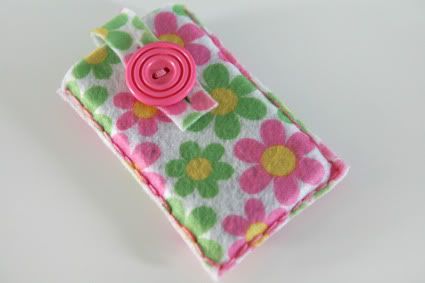 They may not be robust or the most protective, they at least prevent scratched in your bag and knocks when you put it on a hard surface.
From a crafting point of view they are pretty, functional and moreover, so easy to make that I could have one for every day of the week. Which, in fact, I might just do that!
**don't forget to enter the giveaway from yesterday -
open until Sunday**
ps: Am on air again on 20th March at noon.
Deffo on Create and Craft this time.
Deffo.
Live! Cripes!
Also - check out this link HERE to see a lovely project I made for Banana

Frog