Mark woke up to the only day where he gets brekkie in bed. Ellie and I created him some jam on toast with a mug of tea. I made enough food for all three of us and carried our "bed picnic" up on a tray. I love eating toast in bed and flicking the crumbs on to his side. To be honest, he needs the exfoliation and I am actually doing him a favour. I made him a card from Ellie and she used her bestest strength to write all the words without cramp - the look of concentration on her face was magic. Don't you just love it when kids poke their tongues out when they writing?
We took a trip up to my FIL to deliver his card and visit great nan who is still suffering the after effects of pnuemonia. She has thrush in her throat and on her tongue and is not enjoying life right now. I like to go and visit her because you see a whole life in old eyes and although she has her "moments" I also like to try and get a smile out of her before we leave.
We then took a boring snoring shopping trip to Asda. I HATE FOOD SHOPPING - ITS BORINGLY CRAP. I swear I am going to try online shopping with delivery this week. GRRRRRRRRRRR. To top it off we went to Comet on the way home to "look" at 42 inch plasma screens and came out armed with one plus a surround sound system. Thats 3 hours wasted when I could have been chilling with Belle at home. Still Marks got a bad boy telly now (and with the Beaches DVD I bought in Asda), I might weaken to the fact that it was a
good
idea !!!
Anyway - back to Friday. I went out for a meal at Piccolino's in Stockton Heath with my fabbo gym pardner and page kit orderer-abouter pal Sarah. I drank more Champers in one day than I have in my entire life and I felt like lady flippin muck. I think it was fragmole bellini's I was drinking (strawberry champoo!) and I was leathered and stuffed before our main course. We ate that much ciabata, foccacia, olives and GB with cheese along with olive oil and balsamic vig and drank to match each mouthful, that in future I think that ordering main meals is for total fatty arbuckles.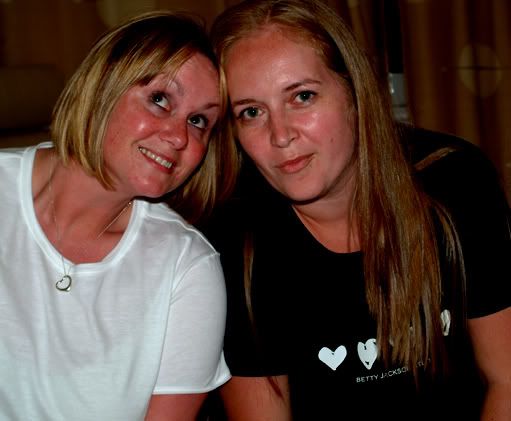 We did laugh our heads off at the most bonkers of things and eventually we traipsed back to her house to "ort of" scwap (inbetween watching Big Bro and quaffing more champoo as well). I cannot believe Grace splattered water all over Susie. What a kid. She made my blood boil but Susie acted more graciously and thats how I deal with sitautions like that. Inwardly seething, outwardly cool. Tis the only way to deal with sitchies like that. And I can't believe I am discussing big brother on here neither. YAWN.
Anyway - picture is of Sarah and I just after I had burped the almightiest of stinky burps and I wanted to snap the event - hence my stupid face pulling smile. Can you see how scared Sarah is of me? I can't help but laugh my head off at that picture. I shall post more tomorrow but in the meantime ..... Im off to bed.